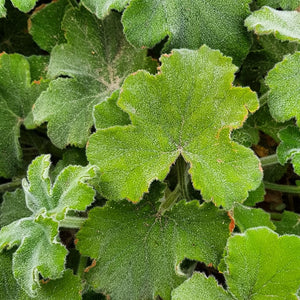 Elli®
Hydrosol - Cape Peppermint Geranium
Sale price Price R 120.00 Regular price
INCI NAME: 
Pelargonium Tomentosum Leaf Water

PLANT PART USED: 
Leaves
EXTRACTION METHOD: 
Steam Distilled Hydrosol
ORIGIN: 
South Africa
BENEFITS AND USES OF CAPE PEPPERMINT GERANIUM
ORGANIC HYDROSOLS = YOUR ORGANIC WATER COMPONENT
Our Hydrosols are made from certified organic plant material and are therefore fully organically certified. Replace the water in your formula with Hydrosols and immediately increase your organic content in your final product without effort!

RECOMMENDATIONS
Hydrosols are very versatile and our Cape Peppermint Geranium Hydrosol can be used as or incorporated into: 
Facial cleansers and toners  

Body care products
Bath additives or soaps
Hair care products

Baby care products

Freshening, linen or room sprays
Aromatherapy
Hydrosols are also used in the food and beverage industries. They are water-based and pasteurisation and/or the use of appropriate preservatives in the final formulation is recommended.
STORAGE AND RETEST PERIOD
Store at 25°C and keep out of direct sunlight. Retest after 18 months.
*Email us for technical data sheet.  
Produced by HERBS-APLENTY(PTY)LTD. Goedgegewe, Western Cape South Africa. +27 825622343
NOP: Certified organic by Ceres GmbH. EU : ZA-BIO-140.