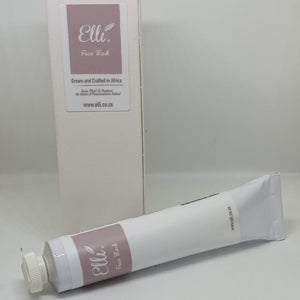 Elli
Face Mask 70g
Sale price Price R 256.98 Regular price
Description:
A concentrated, cleansing and nourishing face mask, with a subtle fruity-floral fragrance, for all skin types containing only certified organic ingredients and packed with natural anti-oxidants. The natural plant waxes and oils will smooth and tone dehydrated skin and will assist in retaining the natural oil-balance and elasticity of the cells as well as help protect against drying effects, leaving a pleasant but subtle fragrance.

Usage:
Use sparingly as a little goes a long way. Steam your face to open your pores, enabling the mask to penetrate and cleanse deeply. Wipe with a clean towel and apply the mask to desired areas. Leave the mask for 30 – 60 minutes. Gently wash the mask off your face with warm water and tab dry.

Organic Certified Ingredients
Butyrospermum parkii  (Shea butter)
Sclerocarya birrea (Marula oil)
Prunus dulcis (Sweet almond oil)
Cera Alba (Natural beeswax)
Rosmarinus officinalis (Rosemary) extract in
Simmondsia chinensis (Jojoba oil)
Eriocephalus punctulatus (African chamomile)
Lavandula 'Marie' (Lavender oil)
Helichrysum splendidum (African everlasting)
Matricaria chamomilla (german chamomile)
Salvia stenophylla (African mountain Sage)
Natural Linalool from Lavandula 'Marie' (Lavender)
Kaolin clay
No Preservatives or Water Added. For External Use Only.