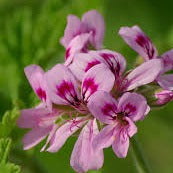 Elli
Essential Oil - Cape Rose Geranium
Sale price Price R 500.00 Regular price
Common Name:
 Cape Rose Geranium.
Botanical Name:
Pelargonium capitatum x radens.
Fragrance:
Rosy, minty.
Parts Used:
 Leaves, flowers.
Extraction method:
 Steam distilled.
Properties/attributes:
Anti-bacterial, astringent, deodorant, diuretic.
Traditionally used for:
Skin ailments, deodorant.
Allergens:
Geraniol.
Blend with carrier oil before use. Keep out of reach of children. Not recommended during pregnancy. For external use only. Consult your local practitioner.
 NOTE 1 g = 1kg  NOT ORGANIC certified.
Produced by HERBS-APLENTY(PTY)LTD. Goedgegewe, Western Cape South Africa. +27 825622343
NOP: Certified organic by Ceres GmbH. EU : ZA-BIO-140.