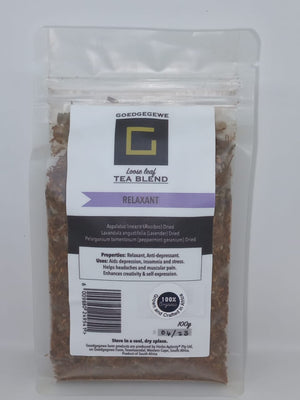 Elli®
Goedgegewe Organic Loose Leaf Relaxant Tea 100g
Sale price Price R 85.31 Regular price
 A blend of 
Aspalatus linearis  (Rooibos)
Lavandula angustifolia (Lavender) Dried
Pelargonium tomentosum (peppermint geranium) Dried
PROPERTIES: relaxant, anti-depressant
USES : Aids depression, insomnia and stress. Helps headaches and muscular pain. Enhances creativity & self-expression.
Use 1 teaspoon of Goedgegewe Tea blend with 400ml of boiling water. Steep - drink warm or cooled - even with a dash of lemon or honey.
Produced by HERBS-APLENTY(PTY)LTD. Goedgegewe, Western Cape South Africa. +27 825622343
NOP: Certified organic by Ceres GmbH. EU : ZA-BIO-140.