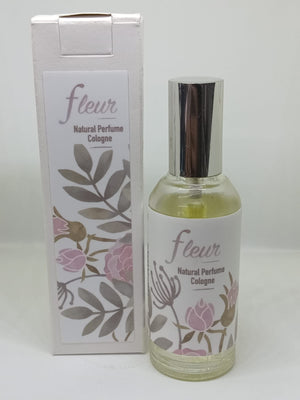 Elli®
Fleur Natural Perfume Cologne 50ml
Sale price Price R 199.85 Regular price
Description:
An organic perfume cologne with a floral aroma. This first signature scent is seductive - the balanced floral sweetness works beautifully and has a sophisticated, sensual, and yet sparkling nuance. It reflects the lightness of a floral bouquet while retaining an effortless beauty – reminiscent of the smells of a beautiful, lush African garden. The uplifting well-rounded aroma supports some of the emotional stress-relieving factors people in fast-paced cities crave: calming, comforting, and grounding. 
Usage:
Use sparingly as a little goes a long way.
To apply spritz lightly onto clean skin – between your breasts, in the crease of your elbow, on your wrists, at the nape of your neck, and behind your ears.
The fragrances are formulated to develop on your skin and respond to your body chemistry.

Organic Certified Ingredients:
Pelargonium Graveolens Leaf (Rose Geranium) Water.
Pelargonium Graveolens (Geranium) Oil.
Lavandula
Cananga Odorata Flower Oil
Pogostemon Cablin Oil
Jasminum Officinale (Jasmine) Extract.
Rosmarinus officinalis (Rosemary) Extract
Simmondsia Chinensis (Jojoba) Seed Oil
Natural Linalool from hybrida Abrial (Lavender) Flower Oil